First of all, I need to make it clear that while the title suggests a battle between conservative and liberal forces, it's really not as simple as that. In the U.S., there is a two-party paradigm—the republicans and the democrats, ostensibly conservatives and liberals, respectively; but much of U.S. politics are just theater. The two parties work to the beck and call of the oligarchy, as represented by their donors and other elements of Permanent Washington—these politicians rarely have any actual principles, and if they do, that will often change them once they're offered more money and privileges, or pretend to have these principles. What I mean by the title is the media and the education system have a massively disproportionate bias when it comes to promoting liberal ideas—often very pernicious ones. They are, therefore, the shapers of society. There isn't a strong opposition in the culture wars. The republicans and other conservative variants are too weak or have become too liberalized to be an effective opposition. The conservatives have failed to conserve anything, and they have become much more liberal as the Overton window shifts, adopting the values of the left. How can the liberals be exclusively blamed when the conservatives set themselves up for failure time and time again?
The two parties are, indeed, two sides of the same coin; the two wings of one bird. They squabble over issues to make it look like there is a fight, but this is the manufactured pretense of political discourse within a "democracy." The propagandistic press curates all of the information to control the views of the masses—if there was a widespread free-flow of information, then this oligarchic system would simply not be sustainable.
The democrats push forward a majority of values that the oligarchy wants for society—all of the woke nonsense. They're now just as pro-immigration as the republicans have long been, betraying the working class which used to be their primary constituency. They are now the party of coastal elites, Wall Street, big business, etc., much like how the republican party was previously characterized as. For those who are interested in what Bernie had to offer on his platform, there is no reason to believe the democrats will ever seriously offer most any of these policies.
The republicans, by contrast, are undergoing a populist shift. On the surface, they seem more sane in many ways. They have their own—sometimes overlapping with the democrats—brand of political correctness, and they are often operating under a very leftist form of morality, but it's not the kind of unsettling woke nonsense that scares normal people. They represent stability and appear to be the voice of reason when it comes to upholding law and order, maintaining gun rights, and are generally more socially conservative and religious.
If you look at what the parties once were and realize how they've changed, then you will know that the republicans were once much stronger in their social conservatism and religiosity. They increasingly pander to the LGBT minority, with several politicians recently caving on transgender issues, including Asa Hutchinson and Kristi Noem. There were also the red flag laws that began with Trump's presidency.
Both parties pretty much see eye to eye on war and U.S. imperialism and Israel (though the browner portion of the party has complained on this issue increasingly). They both have policies that very visibly benefit the oligarchs. The democrats are suggesting amnesty and are perfectly fine with open borders—it's much the same with the republicans, but they want the invasion to occur legally. The religious right has consistently lost on every issue other than Israel.
I don't feel confident the conservatives will do anything substantial. They're just the necessary controlled opposition to match the excesses of the democrats. Both parties corral different halves of the voting population, pitting them against each other—the bulk of them too busily invested in party politics to see the bigger picture, thinking they're the ones who call the shots because of universal suffrage, but they have very little say about anything. The democrats and republicans take turns blaming all of the country's problems on the other party, and no one is ever held accountable.
The Current State of Mental Illness
It can be somewhat difficult to gauge how mentally ill a population is within the span of various centuries or decades because the cultural perception of mental illness and the proper way of treating these illnesses is constantly evolving. There are also certain barriers to treatment: firstly, cost and lack of insurance coverage; secondly, there is a stigma associated with seeking treatment for mental illness, though it has been declining over the years.
Currently, the percentage of the population estimated to have any mental illness is around 20.6% of adults—i.e., the estimate does not include anyone under the age of 18. It's obvious that "any mental illness" is a vague descriptor, giving little indication of severity.
Gen Z and millennials self-report poorer mental health than older generations, more counseling, and have higher amounts of stress. Older millennials in particular also have higher rates of major depression compared to the general population—23% versus 20%; as well as more chronic health conditions compared to previous generations. Although the sample size is not very big for Gen Z, here are some comparative data from the APA:
Headline issues, from immigration to sexual assault, are causing significant stress among members of Generation Z—those between ages 15 and 21—with mass shootings topping the list of stressful current events, according to the APA report Stress in America: Generation Z released in October.

Specifically, 75 percent of Gen Z members said that mass shootings are a significant source of stress, according to the survey, which was conducted online by The Harris Poll on behalf of APA in July and August 2018 among 3,458 adults and 300 15- to 17-year-olds.




Gen Z members are also more stressed than adults overall about other issues in the news, such as the separation and deportation of immigrant and migrant families (57 percent of Gen Z versus 45 percent of all adults reported the issue is a significant source of stress) and sexual harassment and assault reports (53 percent versus 39 percent).

This generation is also significantly more likely (27 percent) than other generations, including millennials (15 percent) and Gen Xers (13 percent), to report their mental health as fair or poor, the survey found. They are also more likely (37 percent), along with millennials (35 percent), to report they have received treatment or therapy from a mental health professional, compared with 26 percent of Gen Xers, 22 percent of baby boomers and 15 percent of older adults.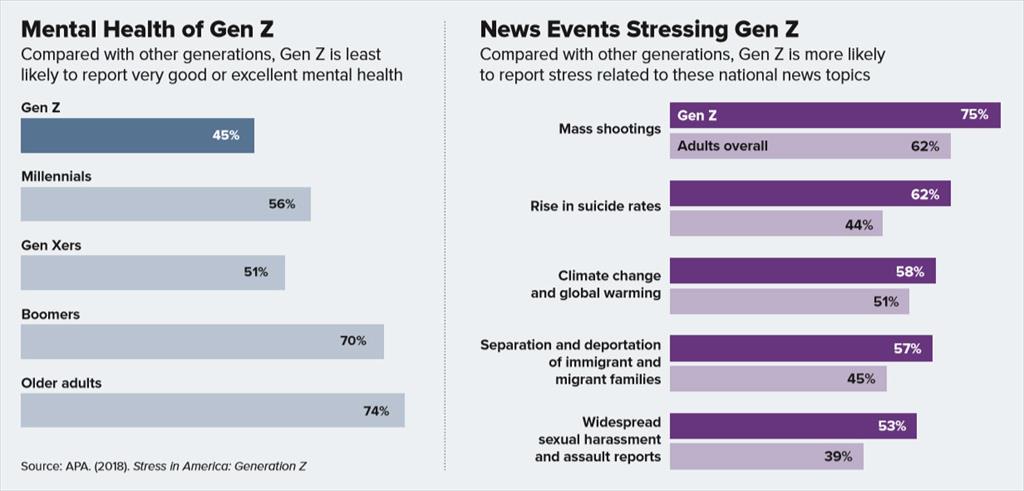 First of all, this is to be expected. Mental illness declines with age, and younger cohorts have higher rates of mental illness compared to older cohorts, and that has been the case since at least the 1950s. The main question is whether or not the various age cohorts of recent years have experienced an increase in mental illness compared to the age cohorts of previous decades.
Anxiety
18% of the adult population has some form of anxiety disorder.
Anxiety in general has increased among the various age groups in the U.S., with the 18-25 age group impacted the most in 2008-2018 (for more specific anxiety disorders and their rates, there's this article). The oldest groups (above 50) are the only ones who have remained stable in terms of anxiety levels.
Anxiety levels are higher among those who have never married. In the past, this would not be an issue, but marriage rates have consistently been dropping since the 1960s, and Americans are delaying marriage for much longer durations now.
Pew:
Opinions on this issue differ sharply by age—with young adults much more likely than older adults to say society is just as well off if people have priorities other than marriage and children. Fully two-thirds of those ages 18 to 29 (67%) express this viewpoint, as do 53% of those ages 30 to 49. Among those ages 50 and older, most (55%) say society is better off if people make it a priority to get married and have children.
It's important to stress that future cohorts are going to be even less healthy in all measures with the way these attitudes are trending, along with other factors such as anti-natal policies, the Covid-19 lockdowns and the climate change craze, feminism, etc., that will reduce both marriage rates and birth rates. The critical period for a woman's beauty and fertility is not long and is declining rapidly (declining fertility also applies to males). Being unable to fulfill the role of a mother will lead to much greater unhappiness for women especially. The middle-aged, unmarried, childless career woman is the least happy demographic (they also have the highest rate of depression of any group according to at least one CDC study, though depression typically declines with age; this shift, assuming it is regularly replicated, is likely because of less marriage, fertility, and child birth) in the U.S. While women in the past might have been able to have a kid at 40 years of age, it's getting harder for women to do so even in their 30s.
Females are hypergamous and value steady work and a high income (at least as high, preferably higher than what the female makes) in their male partners. Unemployment is increasing and statistics for this measure fall short of the truth because the unemployment rate does not account for the labor force participation rate. Wages are decreasing and females are increasingly given preferential treatment in hiring because of a woke and feminist culture. Furthermore, H-1B workers are being prioritized for higher paying tech jobs, and are frequently competing against Americans in other fields—exerting downward pressure on wages. All of these points indicate that the dating pool for both sexes will decrease, and both will be less happy and less likely to start families—perpetuating more anxiety.
Some level of anxiety is normal and even good, but a persistent anxious temperament or subclinical anxiety increases one's chance of developing an anxiety disorder, depression, substance abuse, or other health issues. Since it's believed that brain development is complete at approximately 25 years of age, and such issues affect brain development, mitigating onset of any of these issues before 25 should be seen as one of our foremost concerns, along with eliminating environmental stressors, such as endocrine-disrupting and carcinogenic chemicals and food items.
Depression
A 1989 study, titled Increasing Rates of Depression, sets a grim tone for the post-WWII era. "Previously, depression was regarded as a disorder of middle-aged and elderly persons; now, adolescents and young adults are increasingly depressed and seeking treatment. These younger cohorts have also experienced increased rates of alcoholism, drug abuse, and suicide attempts and deaths." Admissions to hospitals for affective illnesses, such as depression, was greater in the 1950-1980 period compared to the 1920-1950 period, and the average age of those admitted was considerably younger than the pre-WWII era. These generational differences are known as a birth-cohort effect. Similar results were found in other studies from the U.S. and from New Zealand, Germany, Sweden, and Canada; the results were not replicated in Puerto Rico, Mexican Americans in Los Angeles, or in South Korea.
It's possible the phenomenon is associated more with whites than either Asians or hispanic groups, a large portion of whom have varying degrees of white admixture or none. Mexican immigrants have a lower prevalence of mental illness and higher life satisfaction compared to those of Mexican descent who were born in America, even when the former has a lower socioeconomic status. Hispanics have unexpected—often described as paradoxical—advantages compared to other demographics, despite being worse off on several measures: life expectancy of U.S.-born and immigrant Mexicans are 2 and 4 years greater than U.S. whites, respectively. [1]
This birth-cohort effect is not necessarily a result of laxer criteria either, according to Lavori et al., for the portion suffering from "severe" forms of major depression are also greater compared to the older cohorts. In relation to depressive events, Suicide, hospitalization, and seeking treatment increased as well. While one might propose that the difference in what one generation might consider "severe" is subjective—not just from the standpoint of society but also psychotherapists—and varies with cultural shifts, we're not just dealing with self-reportage here.
In Spiers et al., they partially concur with the birth cohort studies, [2] but they remain more conservative, stating "The cohort of people born between 1950 and 1956 had significantly higher rates of depression than their precursors born between 1943 and 1949, across all three depression measures (Table 2)." They report more stability afterwards: "Age-specific rates of depression were then relatively stable across all cohorts born after 1956, with the possible exception of depressive disorder. The latter showed consecutive but non-significant increases in prevalence across all four pairs of cohorts from 1964-1970 to 1985-1991." For the 1993-2007 samples, there are small increases in depression measures for both men and women, but most of the results end up relatively stable when moving from 2000 to 2007.
Mojtabai et al. found an increase in 12-month prevalence of major depressive events in adolescents: an increase of 8.7% to 11.3% in the 2004 to 2015 period. When looking at the adult population as a whole, depression prevalence doesn't typically rise much, if at all, but as the previously cited studies indicate, there often appears to be an increase in prevalence for the youngest cohorts.
Depression rates by age group, according to Twenge et al.:
Perhaps the relative stability suggested by Spiers is correct up to 2007, though Twenge et al. suspect that "Indicators of mood disorders, suicide-related outcomes, and rates of deaths by suicide rose between the mid-2000s and 2017, primarily driven by increases among adolescents and adults ages 18 to 25." Though these results are congruent with all racial demographics, the ascent is greatest among whites, especially if they are of higher socioeconomic status or are girls/women (though keep in mind that regardless of what the percent increase is, men commit suicide at much higher rates).
This trend of rising depression is also quite similar to countries like Canada, Denmark, and the UK; many of the developed countries are witnessing rising depression amongst most age groups, and even for countries with a fairly stable level of depression, there tends to be an increase among the younger population groups, as can be seen in Germany.
Although I will briefly allude to issues of modernity throughout, such as obesity, diet, lack of exercise, fewer hours of sleep, lack of sunlight, overuse of social media and electronics, etc., there is a good article on the subject from Hidaka.
Younger age groups (10-24) also commit fewer suicides than older populations, but there was a 56% increase in suicides (a peak of 10.6 out of 100,000) from 2007 to 2017.
One might easily get the impression suicide has risen for all groups and is substantially higher compared to the past, but that's not quite true.
Time:
In 2017, 14 out of every 100,000 Americans died by suicide, according to a new analysis released by the Centers for Disease Control and Prevention's National Center for Health Statistics. That's a 33% increase since 1999, and the highest age-adjusted suicide rate recorded in the U.S. since 1942. (Rates were even higher during the Great Depression, hitting a century peak of 21.9 in 1932.)
Suicide used to be higher in the pre-WWII era, even before the Great Depression, dipping quite low in the 1990s, starting to rise as the internet became more ubiquitous, then it started to rise rapidly around the time of the 2008 stock market crash. Proposed reasons are the influence of the opioid epidemic and its effect upon the loved ones and friends of users—another is social media and more internet usage, which often leads to isolation and sometimes even cyberbullying. Economic downturns can also be quite influential.
Overall global rates of suicide are actually declining as the U.S.'s rates are rising. Most developed countries are enjoying declining rates, and it's usually only very poor or war-torn countries that have seen an increase.
The younger population accounts for most of the increase during the 1990s, for the oldest population had seen a decline in suicide rates, while populations closer to middle age were relatively stable.
In the 2000s, all age groups continue to have increasing suicide rates. In 2018, suicide was the second leading cause of death for those in the 10-34 age bracket. Hospitalization due to suicidal ideation and suicide attempts also had small increases in the adolescent population in 2008-2015.
It also bears mentioning the existence of superior infrastructure and medical treatment in place for preventing attempted suicides from resulting in a death, as well as far more outreach for prevention. These changes would partly explain why the rates were so high before WWII ended, aside from obvious ones, like the stock market crash and unemployment. Without these differences, the rates would most likely be higher, and despite an increasing quality of life in several measures, suicide is rising again. There are many societal factors which would likely explain the rise, and we can expect it will get much worse with the Covid-19 lockdowns and the money printed-delay of economic disaster.
Life Satisfaction and Happiness
According to Trzesniewski and Donnellan's study, life satisfaction/happiness (LSH) remained stable from 1976 to 2006 in the U.S., along with... basically everything else, give or take a small increase or decrease of some variable by a few percent.
Our World in Data provides some helpful charts to get a grasp of how different countries rank happiness.
There is a positive correlation between LSH and income, so it's obvious that, by default, the happiest countries will be prosperous European countries: Sweden, Netherlands, Norway, Denmark, Switzerland, etc. U.S., UK, Germany, France and others, despite their wealth and power, have a greater demographic problem, worse health, and other factors that place them below the highest ranking countries. African countries rate the lowest, seeing as they are impoverished, crime-riddled, and corrupt countries. Northeast Asian countries also rank quite well, though China is still lagging behind. The assumed reason for why Asian countries aren't higher is a difference of collectivist versus individualist countries.
Latin America ranks higher in LSH than other countries (Eastern European countries, for example) with comparable economic development. This appears to be a racial and cultural difference, similar to how immigrant latinos have a higher average LSH compared to whites, even if the former is poorer.
Health is an important component of LSH, and general health has been in decline since the boomers. There is more drinking and smoking, poorer measures of physical and mental health, higher rates of fatness and obesity. Neither obesity nor drinking, smoking, or other drugs accounted for all of the changes.
Given my biases, I would expect LSH to be declining in the U.S. It is largely a measure of health and income, however, and per capita wealth, though in decline, still allows Americans many luxuries compared to other countries. The U.S. has high rates of fatness, obesity, declining health, and consistently less than stellar health care, so that is another reason we would expect LSH to drop.
Surveys are very subjective measures, and LSH is no different. How do we perceive ourselves and others, and how do we determine a low or high LSH? According to data from Our World in Data, South Korea had a LSH of 90%, but those surveyed guessed that only 24% of citizens were happy; likewise, Norway had an average guess of 60% LSH, when it was around 90%. In these instances, the subject usually rated themselves as being happier than the average for their country. There is a tendency for humans to have an optimistic view of themselves and a pessimistic (or comparably so) view of society. There is also the possibility of reference-group effects:
Reference-group effects (discovered in cross-cultural settings) occur when responses to self-report items are based not on respondents' absolute level of a construct but rather on their level relative to a salient comparison group.
Perhaps subjective beliefs about one's own LSH are not very accurate? It's always hard to say with subjective measures. There will always be variance in perception of LSH and actual LSH, but if the U.S. has a reasonable quality of life; i.e., one can go to school, get a job, socialize, have a roof over his head, and have access to entertainment or hobbies, should we really expect LSH to drop very much? Even if the country might be comparably worse than it was in the past in many ways?
Poverty levels might be lower than they were in the past, but it's becoming more common for adults to live with their parents—I'm skeptical of the 52% number, but it is higher than it once was. Houses are becoming more expensive (recently, the absurd inflation of lumber prices has added an average price increase of $36,000 to new homes, though housing prices had already been on the rise for years), and now there's the two-income trap, where married couples often both have to work; whereas in the past a family could live on the male's income alone. Religiosity is down; divorce is up; the selection of jobs and wages are worse than ever because of illegal and legal migration; families are less stable and less likely to form in the first place.
Despite many problems in both sexes and in society... what is stopping one from becoming absorbed in video games, porn, movies, social media for virtue signaling and belief reinforcement, having fun with friends, drugs, etc.? Even if your job is unfulfilling and your future is less secure than your boomer or gen X parents, are you really going to perceive yourself as less happy? Here is where it makes sense why collectivist countries tend to rank lower in LSH compared to individualist countries. The individualist becomes focused on his own worldly pursuits and has a diminished appreciation or concern for what is happening in society as a whole; the collectivist has a broader perspective and is less inclined to think only of himself.
If the individualist has disposable income and plenty of escapism to indulge in, then he is often none the wiser to his decline. The media conditions its consumers to be content with their lot, even as everything around them depreciates. The World Economic Forum carries the message to its most transparent (and, therefore, it is ineffective and mocked on Twitter by everyone) conclusion: "You will own nothing, and you will be happy."
LSH is probably not very malleable unless one makes comparisons about society as a whole (and only a select few will do this), or income or health drop considerably below the average. It's not a very strong indicator of how much life is worsening on average, because the peasant does not even know he is being exploited by a contemptuous elite class.
Overall, I don't think LSH is a very useful measure or anything to pay attention to. It's largely a measure of income+health with a degree of extra variance due to ethnic/racial and cultural differences.
That's my perspective on the issue if it's true that LSH has remained relatively stable.
However, other researchers have used methods which suggest happiness (not sure how important it is to separate happiness from life satisfaction in this case, but they are not synonymous, despite overlap) is actually declining.
Twenge (again, just as with depression) opens with her usual doom and gloom, going on to point out the disproportionate burden that 6% decrease is having on adolescents and young adults:
The years since 2010 have not been good ones for happiness and well-being among Americans. Even as the United States economy improved after the end of the Great Recession in 2009, happiness among adults did not rebound to the higher levels of the 1990s, continuing a slow decline ongoing since at least 2000 in the General Social Survey (Twenge et al., 2016; also see Figure 5.1). Happiness was measured with the question, "Taken all together, how would you say things are these days—would you say that you are very happy, pretty happy, or not too happy?" with the response choices coded 1, 2, or 3.
She also points out numerous factors associated with lower well-being, such as an increase in self-harm, depression, and suicidal ideation.
This decline in happiness and mental health seems paradoxical. By most accounts, Americans should be happier now than ever. The violent crime rate is low [it's in the process of rising rapidly because of the BLM riots and the systemic racism conspiracy theory], as is the unemployment rate. Income per capita has steadily grown over the last few decades. This is the Easterlin paradox: As the standard of living improves, so should happiness – but it has not.
It's not actually as rosy as she makes it out to be, of course. U.S. crime rates are much higher compared to Asian and European countries, and most forms of crime are committed at higher rates compared to 1960, even after crime declined in the 1990s. Income per capita has grown, but it's not that tremendous of an increase when adjusted for inflation, factoring in bills, food, medical, etc., and when we consider the lack of affordability of houses and the high tuition rates compared to what they were in the 1950s or 1960s, this leaves many people living paycheck to paycheck and/or in debt.
Also, if we look at wealth by generation, there is a clear demarcation. Boomers own 57% of the wealth, while it's only 16% for Gen X, and 3% for millenials. You'd expect discrepancies because it can be expected that the older population will be wealthier as they've had more time to build their careers. However, Adults under 40 owned 13% of the wealth in 1989, but only 7% in 2021. We can see the generational shrinkage even more clearly by observing that when boomers were at the median age of 35 in 1990, they owned 21% of the wealth; with the same median age in 2008, Gen Xers owned only 9% of the nation's wealth; millenials will reach this median age in 4 years, and they will need to triple their wealth or increase it sevenfold to catch up to Gen X and the boomers, respectively.
Here are some charts for a visual depiction of the issue from Financial Times:
Those corrections aside, what is the explanation? One factor might be a weakening of social support networks and social capital—listed examples of social capital decreasing include the perception of government and businesses becoming more corrupt over time and confidence in public institutions. As can be seen with Putnam's study on social capital, mass immigration and diversity also lower social capital, resulting in lower trust within and across racial populations (here is also another list of examples of how social capital is lowered in various ways, according to Putnam).
Other reasons are high rates of obesity, increasing depression, drug usage, and declining health (especially life expectancy compared to other developed countries) because of more sedentary lifestyles, increased drug usage, and poor diets.
Another likely factor is family structure. Divorce has risen greatly ever since no-fault divorce was enacted as a policy. Single motherhood is also far more common, especially among blacks. Being raised by one parent is associated with worse outcomes, but the less stable family structure will often mean the mother dates or cohabits with other men or marries a man unrelated to her children. Higher amounts of abuse of varying forms is higher with these arrangements.
If we look at one of the two sexes, a decline in female LSH is noted by many researchers, and the reasons seem obvious enough. Society has been structured to make it more difficult to maintain a marriage, to have children, and birth control is abundant. Marriage is a great source of anxiety for the non-married and unmarried, childless career women are the least happy group—i.e., they lack fertility and/or the sex appeal they had in their prime to attract a mate or to have kids—now it's unlikely they will be able to carry out their biological function—and women define just about everything by their sexuality. Either people who study this stuff for a living pretend they don't understand women, or they don't understand women—they go so far as to call it a "paradox" that women became more empowered by second-wave feminism and had more rights but were less happy compared to men (and they're happier when it's the other way around). It's only a paradox if you don't realize fundamental differences in the two sexes. Clearly, becoming a mother is hardwired into female psychology, and to place their career above having children is going to lead to women being less happy—it's obvious that men want to pass on their genes as well, but they derive far more satisfaction from their career than women will ever understand, and often, ambition and being a workaholic will carry them along, whereas it will crush a woman in the longterm. It's really that simple. By the time these women realize everything they've learned from feminist rags and the intelligentsia is false, they just double down and push these ideas even harder so they don't have to see the cold reality for what it is.
The most salient factor for a decline in happiness for Twenge is, as can be surmised through her numerous articles in popular publications, involves the increased usage of smartphones, computers, and social media—at least when it comes to adolescents and young adults. 2012 is the year when the majority of adolescents began to own smartphones, and all negative measures increased further after this point. It's understandable why she would think this is one of the most likely factors, considering the average 12th grader in 2007 spent over 6 hours using the internet, social media, or texting, and by 2018, 95% of adolescents had a smartphone and 45% reported they used the internet "almost constantly." This means less in-person social interaction and less social development.
More sleeping, more exercise, more religious gatherings or other events, less screen-time, and more face-to-face interaction are associated with greater happiness and well-being. Obviously, the younger generations are doing less of what is likely to make them happier in favor of what will make them less happy.
With Covid-19, the results are even grimmer in terms of declining well-being.
One psychologist's experience led her to refer to millennials as the "therapy generation." It would seem this epithet is better suited to Gen Z.
Another psychologist gives the impression that stigma around mental illness or seeking therapy has, indeed, evolved:
"Many of my clients joke that they and their co-workers often start conversations with, 'My therapist thinks…'" says Elizabeth Cohen, a clinical psychologist in Manhattan, "The shame of needing help has been transformed to a pride in getting outside advice."
Younger people having higher reported rates of mental illness in recent years compared to previous cohorts could in part have something to do with the way older people perceive stigmas around mental health and treatment; in a university setting, there are often workshops and presentations and a lot of advertisements concerning suicide and mental illness; the counseling centers are usually subsidized as part of the students' tuition fees, and in many cases there isn't a separate cost to see a school therapist/counselor. The perspective among these younger—often more liberal and mentally ill than the general population—students is often one of overwhelming support for therapy and an incessant encouragement to talk about one's feelings, mental illness, and other assorted problems.
I'm not implying therapy is a bad thing or isn't helpful per se, but this environment shapes attitudes about mental health and treatment in a way that differs from other environments, or even the universities of many decades ago.
It's good to have an outlet to express your problems or receive treatment for diagnosable mental illnesses, but maybe we've gone too far to the point that we really are creating a therapy generation?
To some extent, this issue is addressed by Nick Haslam, which I will comment on further below, but for now I will provide a quote concerning trauma—a greatly expanded definition, bringing to mind "trigger warnings."
Individual trauma results from an event, series of events, or set of circumstances that is experienced by an individual as physically or emotionally harmful or threatening and that has lasting adverse effects on the individual's functioning and physical, social, emotional, or spiritual well-being.
I'm not in a position to be sure of how psychotherapists would interpret this definition of trauma. Maybe most have their own definition or don't adhere to a similar definition too literally (favoring instead the recent DSM definition). That's not really the point—it's a useful example for how commonplace experiences from the past can be reinterpreted as overwhelmingly stressful. It doesn't have to stem from a dangerous scenario or an unusual experience like you would see with PTSD. Wouldn't listening to a speech you don't agree with apply as trauma under this definition? Campus speaking events are blocked and disrupted. Students destress in "safe spaces" because of microagressions... or something... trigger warnings don't help prepare a person for the world, but they keep expecting them—just like how venting is not an effective means of overcoming problems. Maybe none of this counts as a mental illness, but if we continue to coddle these conformists they will experience overwhelming amounts of stress from totally ordinary and innocuous stimuli—they're inuring themselves into a maladaptive state and setting themselves up for a real mental disorder—if they don't already have one. I would argue this kind of behavior is already comparable to a mental illness, but I'm not the one deciding on definitions nor am I responsible for diagnoses.
Most psychotherapy is about learning coping strategies and endowing yourself with a better mental model of how to adapt to the world. It's built upon self-change, but perhaps it's the society that needs to be changed, and the mental illness and general dysfunction is a normal response to a severely messed-up social climate. In medicine, prevention is preferable to letting an illness develop and then finding a cure (though the opposite is usually how medicine is handled nowadays). Shouldn't it be the same when it comes to mental health?
Discussing mental illness is not just prevalent in the university, but also on social media. There is an enormous amount of data indicating that social media is both addictive and can have a negative effect on mental health, and it's no wonder that our tech overlords restrict the screen usage of their children. While social media has a clear role in why recent generations have worse mental health, the specific reason to broach the subject in this context is to note the behavior of celebrities and influencers who use social media, many of whom enjoy the attention of hundreds of thousands, if not millions, of followers.
With songs like WAP (otherwise known as Wet-Ass Pussy) by Cardi B and Ariana Grande's 34+35, it's apparent that there are quite a few awful role models for adolescents and young adults, promoting values that may seem "fun" or "good" or "exciting" in the short term, when divorced of reason and in the moment, but in the long term, the bulk of data indicates worse outcomes (though this paragraph appears to be focused on casual sex, the same can be said of unmoderated drug or alcohol use, an obsession with money and consumption, and living a cynical, nihilistic lifestyle in general) for those unfortunate enough to succumb to a life of decadence.
In the past, it was common for the public to not know about the addictions and afflictions of celebrities. They kept it behind closed doors. A seedy tabloid might report a scoop on a celebrity, but, otherwise, you'd probably be left waiting for a biography to come out after they've passed. The Contemporary celebrities are often quite the opposite, publicly discussing their troubles with depression and other issues in detail to their followers. Not only are they a mess, but they often seem to take pleasure in letting you know they are a mess.
A London blogger named Vix Meldrew says she receives her greatest responses when she talks about mental health on social media, and she believes the reason is because she is "making them [her followers] feel less alone."
In one sense, this attention brought to mental illness seems good, but maybe it's better to leave this kind of messaging to more neutral sources and our "role models" should project more strength or be inspiring in some way—or outwardly appear to be a good or normal role model, even if they may not be one to admire in their private life. It gets to the point that our "role models" flaunt their problems so often that you might think it's a part of their brand, and if they're ill, maybe I am, too—maybe we all are. Do they have to envelop all of us in their collective nightmare?
Greater access to therapy is wonderful, if needed, but we don't need this kind of therapism—a culture swaddled in nonstop ads and advertisements on mental illness and therapy—where everyone is talking about their inner minutia all the time, and it seems so widespread, and we're overflowing with empathy, emotion, and we let it all out for the entire world to hear and see, along with our tears. [3]
Frankly, it's pathetic, and I don't want it to sound like I'm mocking people who engage in this behavior. It's not their fault; they're just doing what comes naturally in the culture they were brought up in. Reward non-beneficial behaviors in favor of beneficial behaviors, and you reap what you sow—one generation begets the next and unloads their baggage on their next of kin or leaves them stumbling through the darkness; how is the subsequent (or the one that preceded them, for that matter) generation to know the best path to take—or at least one not fraught with despair? The intellectuals bicker and constantly plot against the citizens, tugging them in a multitude of directions—it's often the most injurious voices that are heard the loudest.
Mental illness should be dealt with similarly to how broken windows policies were crafted to mitigate crime. These policies involved keeping the cities tidy—repairing broken windows or any kind of property damage and cleaning graffiti—the idea was that if parts of the society were left to decay, it would promote the spread of that decay; minor crimes were enforced rather than decriminalizing everything shy of murder and rape, like in California. Liberals will say it "doesn't work." It doesn't work when they want to circumvent the process. If you want to see a tough on crime model that works, look no further than Singapore—punishment is swift and sufficiently severe, the cities are clean and spotless, the crime is low, and if you behave like a scoundrel, you'll get your rear end caned for good measure. It works, but we consistently have the problem of democracy—which is just a veiled oligarchy with ersatz freedom—getting in the way and ensuring we do whatever doesn't work for anyone except for the elites.
Project health, strength, and an ideal of betterment and promote policies conducive to improving health and well-being and we might actually get somewhere.
Another thing to be aware of is the horizontal and vertical extension of disorders—i.e., if we examine the history of the Diagnostic and Statistical Manual of Mental Disorders (DSM), starting with the DSM's precursor, War Department Technical Bulletin, Medical 203, we find that the list of diagnosable conditions went from a mere 47 to over 300 by the time of the DSM-5, which was over the span of 1943-2013.
Nick Haslam wrote an informative article on the subject, referring to these expansions as concept creep. Behaviors once not thought of as a disorder became a disorder, and increasingly milder forms of a disorder ended up as its own condition—a good example of the latter would be cyclothymia being essentially a pared-down version of bipolar disorder 1 and 2.
Most of what we now consider conditions, which were not thought of as such in the past, seem reasonable to include, but then we get to the issue of whether mental illness is increasing or if we're just expanding our criteria to account for the conditions we have overlooked. It's hard to say, but we can certainly see that what counts as major depression has not changed much since the 1970s, and the prevalence of this condition is increasing. The same can be said of other very distinct disorders/illnesses—one only need look at studies for the changing prevalence rate of individual diagnoses, rather than looking at a generic chart showing an uptick in any mental illness overall (obviously, this does not apply to all conditions, as some were changed rather heavily with different iterations of the DSM or didn't become a recognizable condition until much later). [4]
Even in the instance that contextual and normal sadness, worry, or fear is being misconstrued as an actual diagnosable condition, these generalized problems are also becoming more common. Sometimes we are born dysfunctional, but we all have certain dispositions to become dysfunctional in some shape or form, and as we encounter a society that is dysfunctional, we can only expect to become more dysfunctional in increasingly large quantities. Even what is sloughed off as "not a condition" can easily lead to one.
Furthermore, if you look at a very healthy group, such as the Amish, and compare their adolescents to the general population, you will see a world of difference because the Amish focus on what makes humans happier and healthier, mentally and physically, rejecting all the fluff that tends to lead to dissatisfaction. If you look at hunter-gatherers, agricultural societies, and modern societies, you will see an upward trend in depression and other mental illnesses. Based on everything I have observed, regardless of concept creep, I think it would be disingenuous to take a skeptical approach based on these thought experiments—modernity clearly has given rise to many factors which lead to less well-being and more mental illness and general distress.
This is not an anti-civilizational or a "back to nature" stance that I am advocating. Regardless of how healthy the Amish are, there are certain advantages in what they give up, and living as they do is only possible as a nation within a nation—otherwise, it's luck of the draw whether or not a more powerful country subsumes them or disrupts their way of life; unless there is an ally or overarching body that prevents hostilities against an Amish state, but they are ultimately dependent on others. If we did not implement technological advancements to bolster our military, we could easily be overpowered by a sufficiently hostile and technologically superior country and be left to follow the whims of a foreign power. Many of our inventions have saved us time and allowed us to prioritize more important endeavors. But there needs to be a more pragmatic cost-benefit analysis accompanying every change, minor or major, and we should always approach new advancements with some degree of consternation. The U.S. has a tendency to place profits above the well-being of the nation, and that has to change.
We often fail to truly understand the effects something might have on society until we have implemented a change. To take a tangible example, a cellphone is obviously very useful, and it was a worthwhile invention. The smartphone expanded the basic cellphone to have a functionality similar to a home PC. This is a useful upgrade, but perhaps smartphones are too ubiquitous. Children spend far more time on smartphones now, and it is stunting their growth and affecting their health in various ways, and they're addicted to social media. Wouldn't it be prudent for parents to limit screen-time or purchase a normal cellphone instead for contacting their offspring and so emergency calls can be made? We could easily have campaigns focusing on smartphone usage, but we don't—at least not visible ones to affect change for the better. A serious, spirited campaign of this sort would hurt the revenue of smartphone companies, and company profits are placed above well-being, every step of the way. The government doesn't even lift a finger to curb the obesity epidemic we're experiencing—they have no interest in improving man—only to make him fatter and dumber, for then we are the perfect cattle.
Although there may be other factors to consider when it comes to comparing younger cohorts to older cohorts, its obvious that the younger generations have a higher prevalence of mental illness compared to previous cohorts, and there isn't much reason to believe it's getting any better or will in the foreseeable future.
The Mental Illness of the Left
However, even for those who haven't done any research on the subject of mental illness and whether it's liberals/the left or conservatives/the right who suffer more from this problem, they've still probably noticed that younger people don't seem as well-adjusted compared to previous generations; most have seen the safe spaces, the trigger warnings, the panic attacks, the emotional breakdowns, boutique SJW issues and an unwillingness to debate ideas that conflict with their world view, as well as the general hysteria and neuroticism on campuses and outside of campuses, whether they be bizarre protests, social media policing, Drag Queen Story Hour, pride parades, needle-choked and feces-strewn California, or full-scale "Fiery, but mostly peaceful" Black Lives Matter riots.
(I'm going to be very general with my usage of terms like left/liberal/democrat and right/conservative/republican in most instances, using them almost interchangeably to refer to the current left versus right paradigm that we are seeing in the U.S.)
The data from a March 2020 Pew survey was gathered by the doctorate student Zach Goldberg (his page compiles a lot of interesting political data into charts and graphs), who then created several charts that demonstrated liberals are far more likely to be diagnosed with a mental illness—conveniently, the political affiliation is on a spectrum, and it aggregates those queried into two separate racial categories—"white" and "non-white."
"Conservative" is the most healthy group based on this measure, and it only gets slightly worse further to the right, whereas "Conservative" to "Very Liberal" is a constant increase, with the "Very Liberal" whites scoring the highest—either way, liberal whites are always higher than the non-whites. "Conservative" whites are the healthiest of all the groups on this measure.
The oldest age group is also the healthiest in this measure for all political affiliations, with conservatives again scoring the best and liberals the worst.
One issue with this study is that the most "extreme left and right groups" are quite a small part of the sample (apparently only 5% on both sides of the sample in 2018, according to Kirkegaard).